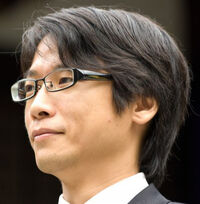 Yutaka Yamamoto is the main writer, and sole director of Fractale. He was born on September 1, 1974 in Osaka, Japan.
He is well-known for his work on anime series, such as The Melancholy of Haruhi Suzumiya (which he became especially well known for because he choreographed the ending dance). He was also the director for Lucky Star and Kannagi.
Ad blocker interference detected!
Wikia is a free-to-use site that makes money from advertising. We have a modified experience for viewers using ad blockers

Wikia is not accessible if you've made further modifications. Remove the custom ad blocker rule(s) and the page will load as expected.